Hair thickening for a natural result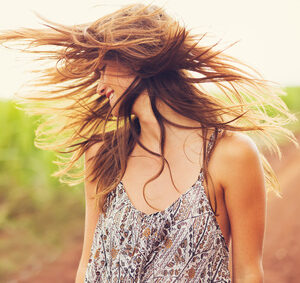 Growing thinner and lighter hair is not something we choose to do.
The Sensi hair thickening spray can easily and effectively solve this problem in both men and women.
Light hair becomes full when it is treated with the thickening spray. Damages caused in thin hair are systematically repaired and filled up. The hair looks much more luscious and denser. The building spray ensures that the hair gets the care it needs and deserves, regenerating and regaining it's natural and healthy look. Various hair types react differently to various products, so depending on the hair type and degree of damage, the products one should use can be chosen from our product range.
A key feature of Sensihair is it's individuality. That is, the product formula enables it to be used on different individuals regardless of the hair nature. So your hair can be effectively built-up and maintained, with a recipe matched by the application of Sensi spray on the client's hair. For this purpose, a hair sample of the client is required first, to investigate the degree of damage and their hair's individual texture. According to these findings, we will set the parameters for the Spray, create an ideal nose hair fillers, as well as an active building spray which pertains to the individual. Your hair profile is recorded, enabling future ordering from the individual upon request in required quantity.
Sensi Reparatur Spray
With Sensi Reparatur Spray, you can choose to customize all of your hair needs. Therefore, selecting the base product, or using a mixed spray for your personal care, is a 100% after usage of the solution. The Sensi solution, makes up about 20% of the hair thickening spray.
Individual formulation
Depending on the texture of the hair, we can arrange an individual spray. Creating the spray according to your individual needs, allows us to provide you with a product that will make you satisfied with your hair.
Sensi Volume & Repair Spray
The Sensi Volume & Repair Spray thickens your hair and is suitable for making your hair brittle and looking luscious. It strengthens your hair and makes it easier to comb.
How do I determine my hair density?
You can look at the hair and hold it against the light, if it is very thin and almost transparent in the light, then you have very fine hair. A measure of density can also be determined by braiding your hair. Depending on the volume of the braid your hair can be classified accordingly.
The degree of damage depends from the structure of your hair and what treatment you have subjected it to been in the past. For example, if your hair was often dyed, tinted, backcombed, or permed, or subject to strong temperature fluctuations. Alternatively, you can submit a hair specimen to us. After analysis, we individually compose the formula corresponding to your hair type.